Vishram Navratnapuri, Padappai
Navratnapuri ends your wait for the ultimate home, your home. Designed to suit your distinct taste and style. Located half a km away from SIPCOT Park in Orgadam and 11 km GST Road, will be the address for the privileged few. A few of its kind we have got features like vastu for perfect homes. One year warranty on the homes and tar roads are offered apart from other exculusive facilities and world class infrastructure.
Reside amidst green wide-open spaces, where the wind rushes through the trees and the weather is gentle, live where the nature is at its best, day long, for ever.
Here is a pristine township that offers you landscaped gardens, clubhouse, swimming pool, children's play area, party hall, departmental store, and lots more, in fact you will be amazed to see how well it is planned and how beautiful living here will be. The kind of place in which you will, no doubt, enjoy entertaining friends, relatives and colleagues. Approved by DTCP. Navratnapuri is not just about class and distinctness; it is about living life centered around the family and nature.
9 reasons to buy Navaratnapuri
Location Advantages
Blend with nature and enjoy the beauty of sunrise and sunset amidst the mountainous views. Consume the fresh air from among the tall trees and tread on the shiny blades of grass to feel and sync in with the scenic beauty.
Site Address
Vishram Navratnapuri
No.138 Koozhangacheri Village, Padappai,
Sriperumbudur Taluk, Kancheepuram District.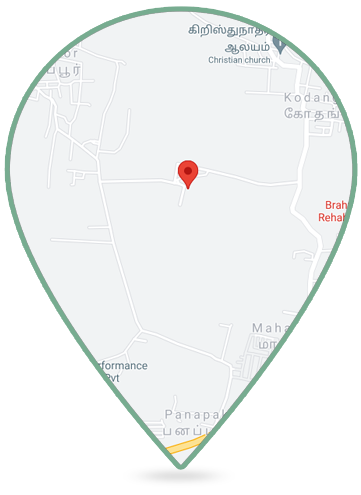 Gallery
A space well-utilized and yet spacious for the family to relax and navigate around the house seamlessly. With skies above and
greeneries around, the premises is beautifully landscaped with spacious walkways and play areas.